The Kids Pilot Course is unique to Guam. Give your child an unforgettable experience. He or she will fly the airplane from takeoff to landing. Of course parents can ride in the back for free. Grab you cameras!
This course is designed especially for children.
They child will actually control the aircraft. No tricks here.
A Certified Flight Instructor will supervise keeping you and your child safe.
We offer booster cushions to give your child an unrestricted view outside the cockpit.
Air traffic control communications and complex operation of aircraft systems will be handled by the instructor.
Parents and guardians ride for free.
After the flight, your child will receive a Pilot Logbook recording the flight time and type of aircraft flown.
For an extra $160, parents and guardians are invited to fly the airplane as well.
Over100 children have flown the Kids Pilot Course and it is one of our most popular courses.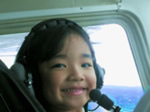 Total Time : 90min
Instruction Time : 40 min
Cost Pilot : $205
Cost Passenger : Free!
※For an extra $160, parents and guardians may also try flying the airplane.

This course apply to 3 and older, under age of 12 years old.
Federal Aviation Regulations do not allow people who have gone scuba diving within the past eight hours to fly aircraft.
There is a chance that the flight must be postponed due to weather, aircraft maintenance, or other unforeseen events. We will reschedule your flight as soon as possible.
Kids Pilot Course Flow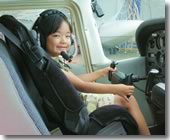 1. You and your child will be escorted to the aircraft. Your child will sit in the captain's seat with an FAA approved seat cushion if needed.

2. The instructor will explain how to operate the flight controls in a very simple manner. See how the wings move when you turn the control yoke? This is exciting!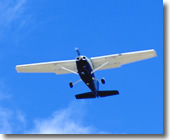 3. Time for takeoff! Gently pull back on the control yoke and watch the ground slip away.

4. Your child will control the plane through climbs, descents, and turns. It's time to explore the island of Guam!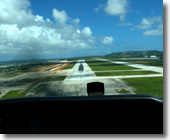 5. Under the supervision of the instructor, your child will control the aircraft all the way from approach to landing. This is a breathtaking experience for all!


6. After the flight, the instructor will fill out a Pilot Logbook for your child. Believe it or not, this flight is considered official flight training. If your child wants to be a pilot when he or she grows up, this flight time counts towards their license!